Orthopedic Foot Doctor in Maui, Wailuku, HI
Board-certified Dr. Charles Soma MD at NorthShore Orthopedics specializes in evaluating and treating disorders of the lower leg, ankle, and foot. If you have ankle pain or a foot injury get comprehensive and quality treatment. For more information contact us today or book an appointment online. We are conveniently located at 1827 Wells St #1, Wailuku, HI 96793.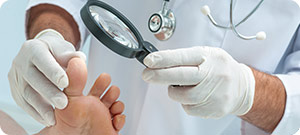 Table of Contents:
What causes foot pain?
What is the best kind of doctor to see for foot and ankle pain?
When should I see a doctor for my ankle and foot pain?
How do I know if my foot pain is serious?
Feet are our primary modality of mobility, taking us where we need to go without a second thought. They work tirelessly transporting us from one place to the next, only getting a break when we sit or lie down. Even with this high amount of movement, the feet and ankles are strong and resilient structures that can withstand long hours of work. However, these lower limbs can also become overworked and sustain a physically limiting injury, which can severely affect mobility and movement.
What causes foot pain?


There are dozens—if not hundreds—of causes of foot pain, each one varying in severity. Common causes include:

• Achilles tendonitis
• Achilles tendon rupture
• Avulsion fracture
• Bone spurs
• Broken foot
• Broken toe
• Bunions
• Bursitis (joint inflammation)
• Corns and calluses
• Diabetic neuropathy (nerve damage caused by diabetes)
• Flatfeet
• Gout (arthritis related to excess uric acid)
• Haglund's deformity
• Hammertoe and mallet toe
• High heels or poorly fitting shoes
• Ingrown toenails
• Metatarsalgia
• Morton's neuroma
• Osteoarthritis (disease causing the breakdown of joints)
• Osteomyelitis (a bone infection)
• Paget's disease of bone
• Peripheral neuropathy
• Plantar fasciitis
• Plantar warts
• Psoriatic arthritis
• Raynaud's disease
• Reactive arthritis
• Retrocalcaneal bursitis
• Rheumatoid arthritis (inflammatory joint disease)
• Septic arthritis
• Stress fractures
• Tarsal tunnel syndrome
• Tendinitis
• Tumors
What is the best kind of doctor to see for foot and ankle pain?


The best kind of doctor to see for foot and ankle pain is either an orthopedist or a podiatrist. Orthopedists are specialists in treating abnormalities in the entire musculoskeletal system, from head to heels. They can diagnose a number of conditions, including soft tissue injuries and fractures, and can also prescribe numerous therapies. On the other hand, podiatrists are specialists in the feet and ankles and focus on diagnosing and treating any kind of condition that affects these areas, from bone spurs and hammertoe to athlete's foot and sprains.
When should I see a doctor for my ankle and foot pain?


Since we are constantly on our feet and rely on them for transportation every day, ankle and foot pain can be challenging to live with, even in mild cases. Sometimes, at-home care is sufficient to resolve symptoms, but it is important to visit a foot and ankle specialist if symptoms are severe. Seek immediate medical attention if:

• There is severe pain or swelling
• There is an open wound or a wound that is oozing pus or other discharge
• There are signs of infection, such as tenderness, warmth, redness, or a fever over 100ºF
• It affects the ability to walk or bear weight on the foot

Schedule an office visit if:

• There is persistent swelling that does not improve at all after two to five days of at-home treatment
• There is persistent pain that gets worse or does not improve after several weeks
• There is burning pain, numbness, or tingling, particularly involving most or all of the bottom of the foot, including the heel and ball of the foot
How do I know if my foot pain is serious?


Signs and symptoms that indicate foot pain is serious include:

• Recent trauma to the foot
• Inability to bear weight on the foot
• Wounds on the feet
• Pain in both feet simultaneously
• Warmth, redness, and swelling in the foot
• Visible deformity
• Pain negatively impacts the quality of life

If any of the above signs are present, it is imperative to seek professional medical care as soon as possible. NorthShore Orthopedics is dedicated to helping you improve the health of your feet and ankles. Call us today to book an appointment to meet with our foot and ankle specialist, or visit our clinic. We serve patients from Wailea, Kihei, Hana, Lahaina, Kaanapali, Lana'i, Moloka'i, Oahu, Kaua'i, and Hawai'i Island